We are inviting diabetic eye screening providers and commissioners to give us their views on updated guidance for managing referrals to hospital eye services.
Screening services refer people for assessment or treatment if the identify them as having sight threatening diabetic retinopathy. This can be from routine digital screening, digital surveillance or slit lamp biomicroscopy appointments in the screening service.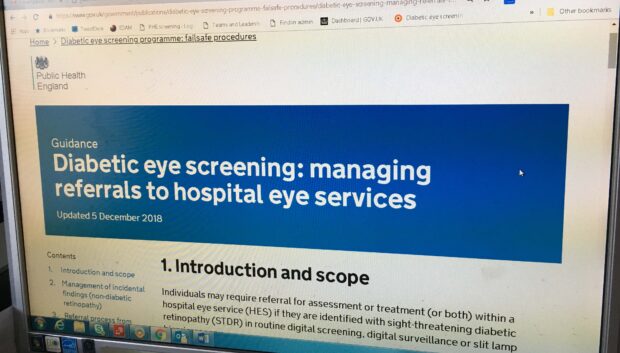 We have updated the guidance for the management of these referrals to clarify the role of providers and hospital eye services. We have taken into account differences in approach across the country.
We know that some local screening providers have developed their own failsafe processes for referred individuals. We are asking them to work towards fully implementing the new guidance by April 2019.
Please complete our short survey to provide your feedback on the guidance, including how it will impact on your service, your current failsafe processes and relationships with hospital eye services.
Please note we will not be able to respond to individual queries from these responses but will take them into consideration when reviewing the updated guidance.
Please complete the survey by 10 January 2019.
PHE Screening blogs
PHE Screening blog articles provide up to date news from all NHS screening programmes. You can register to receive updates direct to your inbox, so there's no need to keep checking for new blogs.