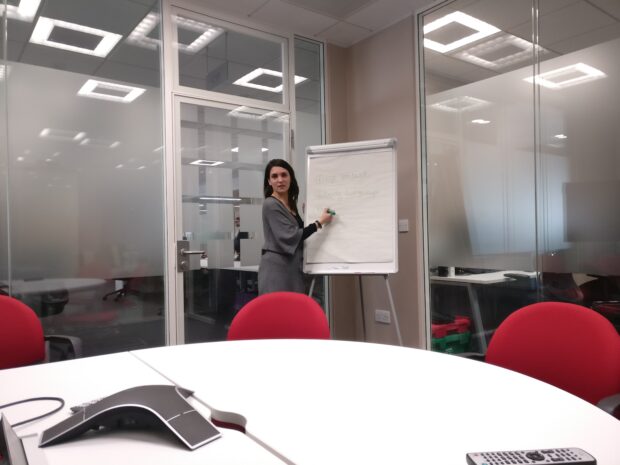 I used to find giving presentations petrifying. This was before I attended the presenting confidently training organised by Civil Service Learning.
I am writing this blog to share my experience with anyone who might feel like I did.
What the training involves
The training is great for people who are terrified of giving presentations.
It's a safe and friendly environment to:
discuss any concerns
exchange feedback with colleagues from different departments
receive professional advice
I found the feedback from others extremely reassuring and discovered that what worried me the most (my Italian accent) was not what I needed to work on.
Instead I learnt that I should concentrate on speaking slowly and not obsess about hiding behind my laptop. I thought "I could do that."
I left the training feeling positive and energised and called my manager on my way home to let her know everything about it.
She reacted in her typical way by saying: "oh I am so pleased you enjoyed that, you should make a presentation about your experience at the next team away day". I agreed and was happy about it.
Later I realised that I really had to do it! I panicked about it for weeks, but had it prepared a few days early.
Putting training into practice
On the day, I woke up at 5 am and rehearsed for about 3 hours. And the presentation was only 15 minutes long in front of my team of 11 people.
My presentation went extremely well and my manager was very impressed. So impressed she asked me if I could present at a bigger event happening few months later.
I also did that, in front of about 50 people. Again, I woke up at 5 and rehearsed for about 3 hours (this presentation lasted only 10 minutes).
That morning I told people I knew well that I was nervous and every single person was kind, reassuring and empathetic.  Apparently most people have been through this at some point and I think this is something to keep in mind.
I'd say there are 2 things this training can help with: feeling better about presenting and presenting better.
I haven't done any more presentations since but I have no doubt that my manager will help me find the right opportunities. I know I need to keep doing presentations, and the more I do the better I will feel about it.
I think that's a good start!
PHE Screening blogs
PHE Screening blogs provide up to date news from all NHS screening programmes. You can register to receive updates direct to your inbox, so there's no need to keep checking for new blogs.