It is inevitable that some breast cancers are found in the interval between routine scheduled breast screening appointments.
These are called interval cancers. There are 3 types of interval breast cancer.
Most interval cancers are newly detected. They were not visible on mammography (breast x-rays) at the previous screen and developed since then.
Some would have been visible at the previous screen but the signs of cancer were very subtle and thought to be normal.
Occasionally, cancers are missed by the staff who 'read' the images.
National guidance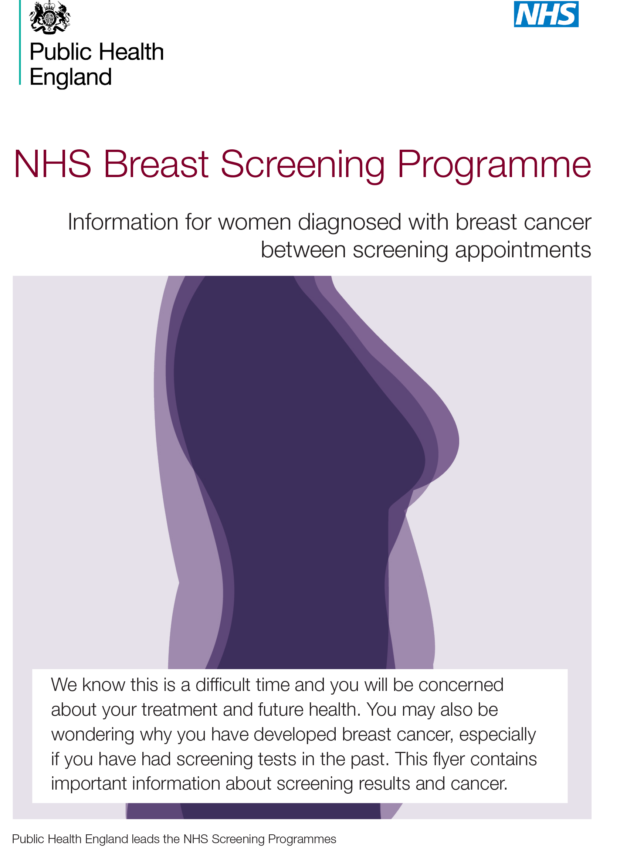 We have now published Breast screening: interval cancers and duty of candour toolkit. This national guidance provides advice to health professionals about how to communicate information on interval cancers to women who were previously screened in the programme.
The toolkit is designed for both screening and symptomatic breast services.
It includes useful information on:
the process for the  transfer of information required between symptomatic and screening services to allow radiological review of all interval cancers
the radiology review process
formal communications with women about disclosure of audit and duty of candour
best practice when undertaking duty of candour communications
The toolkit includes an information flyer to give to women who have breast cancer diagnosed between screening appointments.
We are sending an initial supply of the flyers to all local breast screening services. These services should download and print copies locally as required after using up this initial supply.
The new guidance explains how and when services should use the flyer.
E-learning in development
To support this work, we are also developing an e-learning module.
This module will include an educational DVD guide to best practice when communicating the outcomes of radiological review to women.
We aim to make this available in April 2018. All staff who undertake these type of communications will be required to complete the e-learning.
PHE Screening blog
PHE Screening BLOG articles provide up to date news from all NHS screening programmes. You can register to receive updates direct to your inbox, so there's no need to keep checking for new blog articles.