Well over 100 people involved in abdominal aortic aneurysm (AAA) screening throughout the UK took part in a national research day in Leicester.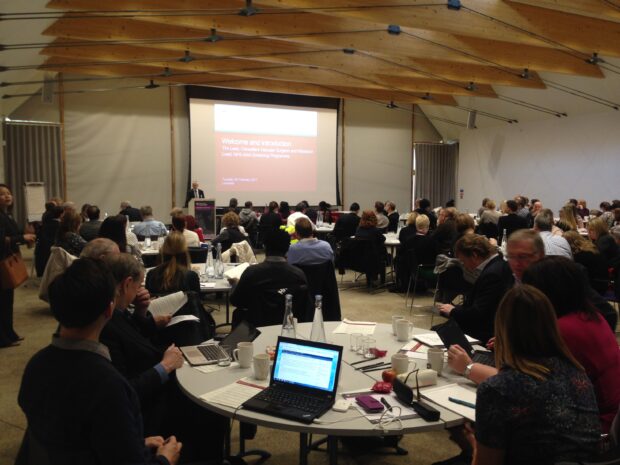 PHE Screening hosted the event and speakers ranged from screening nurses, medical students and local programme managers to vascular surgeons and senior academics.
The NHS AAA Screening Programme aims to reduce AAA-related deaths among men aged 65 and over through the early detection, appropriate monitoring and treatment of aneurysms.
National programme manager Lisa Summers opened the meeting with an update on the English programme which has screened more than 1.2 million men and referred around 3,500 for surgery since 2009.
She also gave an update on the work of the 4 nations (England, Scotland, Wales and Northern Ireland) AAA screening group which has been working on an inequalities toolkit to enable local providers to use data to reduce inequalities and increase screening coverage.
The inequalities theme was picked up by a number of speakers. David Sidloff, of the University of Leicester, presented data showing that men who live in the most deprived areas are more than 3 times less likely to take up the offer of screening than those in the least deprived areas. Social deprivation is also associated with increased AAA prevalence and increased mortality from other causes.
Other examples of local research and audit included initial results from a pilot study in Leicestershire that is looking into the feasibility of AAA screening for high risk women – current and ex-smokers and those with a history of coronary heart disease.
Presentations from the research day can be downloaded from the event website.
The NHS AAA Screening Programme encourages anyone interested in conducting research involving patients identified through AAA screening to complete an application form. They can also download research guidance and terms of reference from GOV.UK.
The national programme will soon be looking for people to conduct specific pieces of research. These include a number of workstreams to study men who have subaneurysmal aortas (2.6 to 2.9cm diameter) detected by screening and who do not currently meet the national threshold for ongoing surveillance. More details will follow in a future blog post.
Meanwhile, put a note in your diaries for Tuesday 27 June when the programme will be holding a national AAA screening networking and information sharing day.
PHE Screening blogs
PHE Screening BLOGs provide up to date news from all NHS screening programmes – replacing our previously published newsletters.
You can register to receive updates direct to your inbox, so there's no need to keep checking for new blogs.