I attended an excellent workshop held by the NHS Fetal Anomaly Screening Programme (FASP) to inform new laboratory and screening division staff about the Down's syndrome Quality Assurance Support Service (DQASS). The presentations from the workshop are included below.
DQASS is a statistical support service, provided by a small team based at the University of Plymouth. All Down's syndrome screening laboratories and screening sonographers working in the NHS in England must register with DQASS.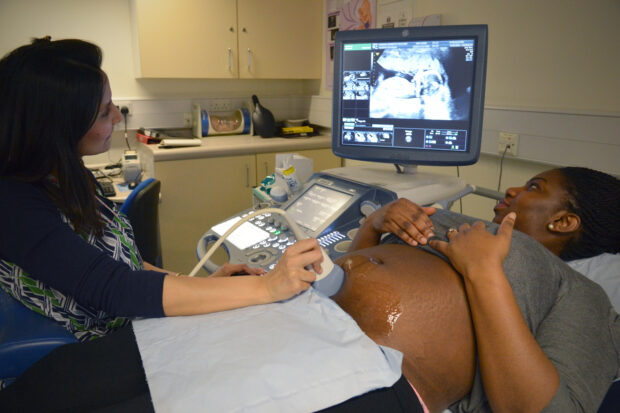 DQASS analyses the data from screening laboratories and ultrasound practitioners these are used to calculate the risk of having a pregnancy affected by Down's syndrome, Edwards' syndrome or Patau's syndrome.  The Screening test for you and your baby booklet gives more information about these conditions and aids to help parents make further important decisions.
I attended the workshop because I will be working closely with the DQASS team in my role within the Screening Quality Assurance Service (SQAS).
The workshop gave an overview of the screening processes, the importance of quality assurance and how DQASS works. Dave Wright, lead statistician, took us through the process of calculating the risk of having a pregnancy affected by Down's, Edwards' or Patau's syndromes, from being in the scan room to when the report for laboratories is produced.
I am sure we all left the room with at least 1 take home message. Mine was that a tiny error – even something as simple as providing the wrong maternal date of birth – can influence the risk.
Here's what a few others had to say:
I attended the workshop and found the information provided invaluable. I am new to this area and found the progression of talks/discussions from start to finish to be of great benefit. Dave gave some great talks and explained all aspects of screening in a clear and concise manner. The practical session during the breakout was brilliant and really cemented the knowledge previously discussed. I think these exercises would be of great value for future trainees. The venue was also lovely and very central, and all facilities were great – a thoroughly enjoyable and educational day. I will definitely come again.
– Dr Emily Leach, consultant clinical biochemist Mid Essex Hospitals Trust
The whole DQASS workshop was an excellent event – in particular, a refresher on the details of how the complex data analysis process helps to ensure a high quality screening pathway for women was really helpful. Thank you.
– Alison Fiddler, quality assurance advisor for antenatal and newborn screening programmes (London)
Here are the presentations from the day's different sessions:
1. Quality Assurance of screening for Down's syndrome
2. Interpretation of DQASS reports
3. Monitoring and updating multiple of medians (MoM) values within the laboratory
4. Update on non- invasive prenatal testing
5. Factor update dialog
If you want to find out more about DQASS, there's plenty of information on their webpage.
PHE Screening blogs
PHE Screening BLOGs provide up to date news from all NHS screening programmes – replacing our previously published newsletters.
You can register to receive updates direct to your inbox, so there's no need to keep checking for new blogs.