Hello screening colleagues. My name is Helen Bone and I am programme manager and safe care lead for the Sunderland and South Tyneside Diabetic Eye Screening Programme.
I thought you would like to know about the fantastic work we have been doing to transform diabetes care up here in the North East.
Since 2005, we've combined with podiatry services so patients have their diabetes foot and eye checks in a single appointment. That in itself is not rare for retinal screening but in April this year we launched a true one-stop service for people with diabetes in South Tyneside.
The National Institute for Health and Care Excellence (NICE) recommends nine annual checks for everyone with diabetes. Until recently, these were being delivered with varying degrees of success locally with uptake for all nine checks in GP practices varying from 30% to 70% despite overall uptake of diabetic eye screening being consistently high at 84% .
The more appointments someone has the more likely it is they will miss one. So, around 18 months ago, the NHS South Tyneside Clinical Commissioning Group (CCG) approached us to see if we could work in partnership to launch a comprehensive screening service incorporating all 9 checks.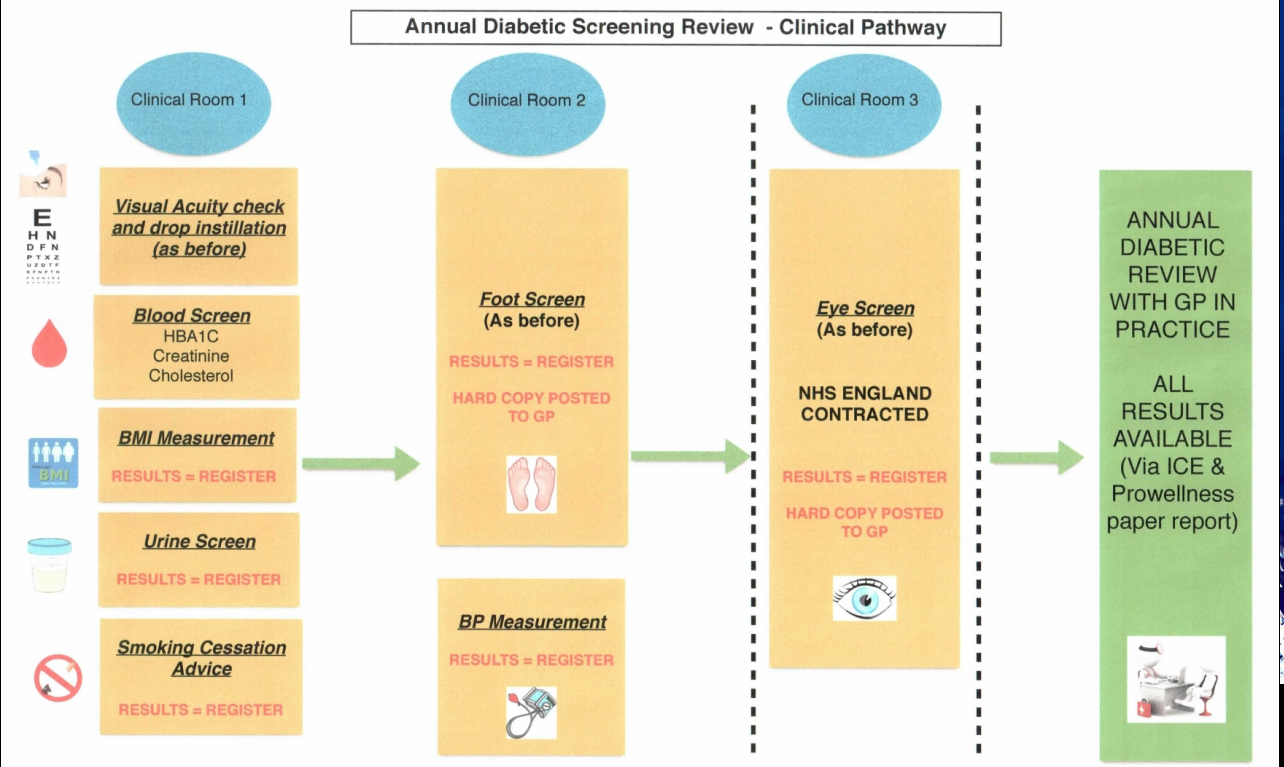 After a year of planning we successfully launched three new one-stop shop-style clinics on 7 April this year and the feedback has been excellent from our patients.  Last month we were awarded an innovations award from our trust for improving the diabetic patient experience and we have been contacted by Diabetes UK and teams elsewhere in the country who are trying to achieve the same goal.
As well as reducing the number of appointments, the new clinics have freed up GPs to spend more time planning care with patients rather than carrying out tests themselves.
In addition to diabetic eye screening and foot checks, the clinics cover BMI (body mass index), blood glucose, blood pressure, blood creatinine tests to check kidney function, cholesterol checks, urinary albumin tests for early kidney damage and help with giving up smoking.
Praise from patients has included the following comments from a patient questionnaire in May:
All the staff were very professional, friendly and caring. Explained everything in detail – love the new service
One-stop shop saves me taking too much time off work
Very efficient and informative, much better having all tests done in one centre
A truly fine example of integrated well delivered care
The whole experience was a credit to the NHS – well done. High quality staff throughout
Much easier than multiple visits to the surgery
Fast, effective and very well explained
We are now working with our commissioners to gather data and work out what impact we have had so far. We are confident it will be positive and that diabetic services elsewhere in the country can learn from our example.
PHE Screening blog
The PHE Screening blog provides up to date news from all NHS screening programmes – replacing our previously published newsletters. You can register to receive updates direct to your inbox, so there's no need to keep checking for new blogs.