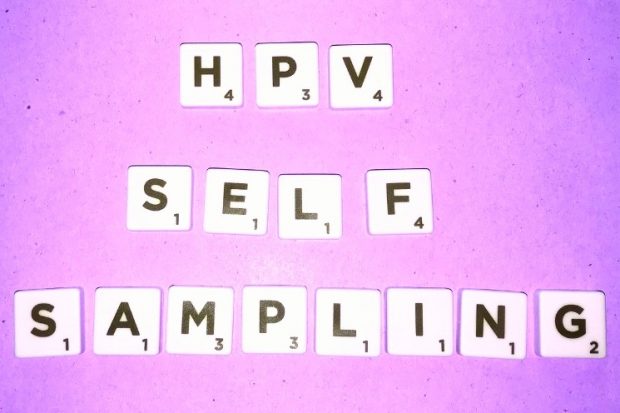 NHS cervical screening has seen a small increase in coverage in the last 2 years, however it remains below the 80% standard and we would all like to see a further increase.
It's important to remove or reduce the barriers to attendance wherever possible, while respecting that cervical screening is always a personal choice.
Studies show self-sampling could help increase the number of women taking up the offer of cervical screening.  Self-sampling would allow women to take a test in the comfort of their own home.
Regular readers of this blog will know that the implementation of HPV primary screening by the NHS has unlocked new opportunities for the programme, including offering self-sampling as an alternative to the traditional clinical taken cervical screening test.
In 2019 the UK National Screening Committee (UK NSC) called for more evidence in self-sampling. From October 2019, Public Health England (PHE) has been involved in a huge amount of work with partners, including NHSEI, academics and charities to evaluate HPV self-sampling in the programme.
Before any new test can be introduced into the programme, a process (clinical validation) must be carried out to maintain the reliability, validity, safety and quality of any NHS screening programme.
We are delighted to announce that PHE has received approval from London Stanmore Research Ethics Committee to carry out a clinical validation. Laboratories providing cervical screening services will receive and test self-collected samples as part of the clinical validation process.
This is a significant breakthrough towards the next stage of evaluating self-sampling in the NHS cervical screening programme.
Next Steps
The priority will be to investigate the effectiveness of self-sampling by comparing self-taken samples with samples taken by a doctor or nurse. This will be done by:
selecting NHS cervical screening laboratories to process self-sample tests
recruiting eligible participants across colposcopy clinics and primary care sites
analysing the laboratory processes and performance of different sample devices
Efforts will be made to ensure that the evaluation minimises any impact to the providers involved. The outcome of the clinical validation will provide evidence to inform which device or devices could be used and how best to carry out the testing in laboratories in the English NHS cervical screening programme.
Women will also be asked about their attitude and preferences for self-testing and use of self-sample devices and the results will be used in the evaluation.
More updates to come
Self-sampling is a very exciting development and we look forward to sharing our progress with you via the PHE Screening blog in due course.
PHE Screening blog
The PHE Screening blog provides up to date news from all NHS screening programmes. You can register to receive updates direct to your inbox, so there's no need to keep checking for new blogs. If you have any questions about this blog article, or about population screening in England, please contact the PHE screening helpdesk.