On a very rainy morning, the inherited metabolic disease screening advisory board welcomed 2 esteemed colleagues, Professor Anne Green and Professor Rodney Pollitt, to mark 50 years of newborn blood spot screening.
After lunch and cake (a healthy carrot option!), we invited Anne and Rodney to share their experiences and thoughts on the current programme.
The early (good old) days
Rodney says:
You have no concept of how primitive things were.
Liquid blood in fragile glass tubes, minimal automation and technology, primitive links to child health, no external quality assurance or standard procedures, lack of formal health and safety…
The differences between today's quality assured screening programmes and when Anne and Rodney began their careers are huge.
But they also describe a time in which common sense prevailed, scientists could ask 'what if?' and 'how about doing this?' and make rapid progress in new areas.
With no national programme centre, screening laboratories were the local focus for the whole screening pathway, from blood collection to diagnosis and management.
Laboratories established collection of the samples, trained midwives, became involved in diagnosis and follow-up of patients, developed information for parents and piloted screening for new conditions.
A lot of the laboratory work was totally manual, and potentially hazardous. Both Anne and Rodney describe increased automation and computerisation as real game changers.
One thing that hasn't changed over the years is the dedication of professionals, like Anne and Rodney, to developing and improving newborn screening in this country.
A career in newborn screening
Professor Anne Green
Anne's first experience of newborn screening was at Birmingham Children's Hospital (BCH) in the early 1970s (see photo on left, below).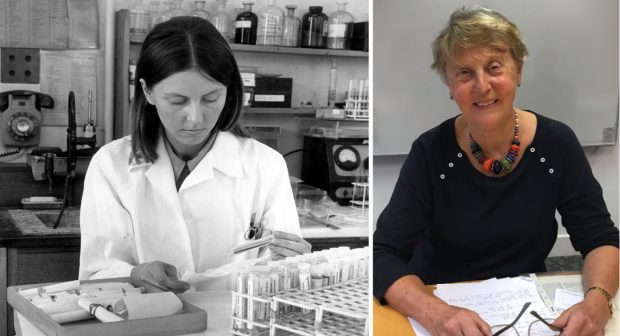 At the time, the BCH laboratory was using the 'Scriver' technique rather than the blood spot test. The Scriver technique used liquid blood, which would arrive in the laboratory in glass tubes. Anne recalls how laboratory staff were terrified the tubes would break in the centrifuge machine.
The work was labour intensive – particularly with the Scriver technique.
Quality of the sample wasn't an issue (as it would later become with the blood spots) but the test wasn't as practical for large scale use. It also detected other conditions, which posed the question of what to do.
After a spell at Sheffield Children's Hospital, Anne returned to BCH as Laboratory Director in 1982. She oversaw the merger with the other West Midlands laboratory providing newborn screening (based in a psychiatric hospital, as was common at the time), and the change to using the dried blood spot test for the whole region.
The laboratory also led early pilots for sickle cell disease and congenital hypothyroidism (CHT) screening. There was lots of development, including early work to establish computerised links with birth records.
Towards the end of her career, Anne brought her wealth of knowledge and experience to the role of laboratory lead at the UK Newborn Screening Programme Centre.
Professor Rodney Pollitt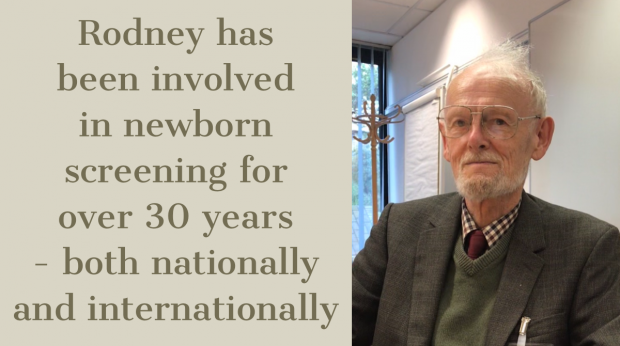 Professor Rodney Pollitt says he used to be 'a proper chemist'. After completing his PhD in Chemistry, he began working in Sheffield, investigating the link between chemical pathology and mental disorders.
This work was disrupted by the national policy to implement blood spot screening for the rare but potentially serious inherited disorder Phenylketonuria (PKU) in 1969.
Rodney's team was pulled into setting up the programme for the whole of the Trent region because they were 'the only people that could do it'.
Working with every maternity liaison committee in the area, Rodney and his team established collection of blood spot samples, training for midwives, and sending results to child health departments.
Professionally involved in newborn screening for over 30 years, both nationally and internationally, Rodney was also instrumental in setting up screening for cystic fibrosis in the UK as part of the newborn blood spot programme.
Changes and challenges
Laboratory mergers, computerisation and central organisation have all changed newborn screening over the years – but thrown up some challenges.
Anne and Rodney describe how increased laboratory collaboration brought benefits such as standardised procedures and quality assurance, but that the creation of committee after committee slowed down progress in other areas.
Approval for CHT screening took forever, only for the committees to realise that all the laboratories were screening for it already!
Working in smaller laboratories enabled forging of close links with paediatric teams, which was vital for monitoring outcomes. Mergers increased efficiency, but meant being further from the clinical action.
National computer systems with links to child health proved another challenge. Many laboratories already had good systems in place and were reluctant to change.
Local systems and networks had to adapt to several NHS reorganisations.
Creation of the national programme centre in 2002 meant data collection and programme evaluation could be carried out on a larger scale, but it impacted on the central role of the laboratory.
How things look today
If we look at things today, Anne is positive about how the UK programme is seen internationally. She says:
The newborn blood spot screening programme is conservative in the number of conditions we screen for, but is high quality in outcome-based screening and follow-up. When I presented work overseas, people were always impressed with how the UK could tell you what the outcomes from the screen positive cases were – it's been a big strength of the national system.
Anne also pays tribute to the role of our community midwifery service and talks about how envious people in other countries were of it. She says:
To have every baby visited at home by a midwife is staggering to some people. We shouldn't forget that.
Rodney acknowledges how much the subject of newborn screening has grown, and that there is an important role for genetics in future. Further automation and computerisation will no doubt support expansion of the programme into other areas.
Anne and Rodney are both keen to emphasise lessons from the past. Anything that impacts on the natural links between screening, diagnostic and clinical services will make follow-up more difficult. If services merge, networks could be lost.
In the newborn blood spot screening programme, human interaction is just as important as good IT – from collaborating on pilot studies and sharing knowledge, to going the extra mile to make sure that every baby is offered screening and, if necessary, enters high quality care.
Look out for tomorrow's article
It's now 50 years since the introduction of UK-wide dried blood spot screening for phenylketonuria (PKU) in newborn babies. To celebrate the landmark, we have written a series of articles looking at how blood spot screening for PKU came about and how it paved the way for the expanded programme we recognise today. Our final post is a parent's view of living with PKU.
PHE Screening blog
The PHE Screening blog provides up to date news from all NHS screening programmes. You can register to receive updates direct to your inbox, so there's no need to keep checking for new blogs. If you have any questions about this blog article, or about population screening in England, please contact the PHE screening helpdesk.