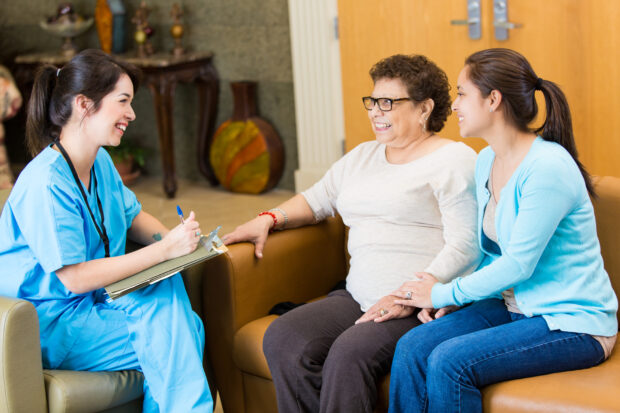 This is a guest blog by Deborah Alsina MBE, Chief Executive of Bowel Cancer UK. This Bowel Cancer Awareness Month, Bowel Cancer UK (BCUK) is highlighting how the charity supports the NHS Bowel Cancer Screening Programme.
Bowel cancer screening provides the best opportunity to detect bowel cancer at an early stage when it is more treatable and with a good chance of survival. Nearly everyone detected at the earliest stage of the disease does survive.
The importance of screening
Just over half of eligible people in England take part in bowel cancer screening.
Screening is always a choice, but to help remove misunderstandings and barriers to screening, BCUK offers free 30 minute volunteer-led talks to the general public. These are delivered by a trained health promotion volunteer, who often has a personal experience of bowel cancer.
The BCUK talks:
raise awareness of the disease and good bowel health
highlight symptoms and risks
encourage people to take the test when they receive it in the post
Of those who had not previously taken part, over a third (69.2%) said they would now complete the screening test as a result of the awareness talk.
One participant told us:
It (the talk) prompted me to address a problem I had ignored.
Visit the BCUK website if you are interested in hosting an awareness talk at your work.
People with learning disabilities
We've worked in Scotland and England to help produce materials to support people with learning disabilities to understand the screening test.
We worked with NHS Scotland to produce:
an easy read patient information leaflet for the introduction of  the faecal immunochemical (FIT) test for bowel screening
a carer's guide for those who support adults with learning disabilities
We're currently working with Public Health England (PHE) and the North East and Cumbria Learning Disabilities Network to produce:
an English easy read leaflet, ahead of the launch of FIT in England
These projects support our aim of producing more tailored information, ensuring it's more accessible to a wider range of people, while also supporting PHE's wider inequalities strategy.
We hope the leaflets increase accessibility for people with learning disabilities and other 'harder to reach' audiences, such as those whose first language isn't English.
Workforce capacity 
The 2 key tests to diagnose bowel cancer are colonoscopy and flexible sigmoidoscopy, which are known as endoscopy procedures.
With demand for these tests rising year on year, this is putting increasing pressure on NHS hospitals because there simply isn't enough staff to deal with this growing demand.
A long-term commitment is desperately needed to address NHS workforce challenges and tackle staff shortages.
BCUK has been campaigning on this issue for many years and in autumn 2018 we launched our Capacity Crisis campaign calling for investment into an NHS workforce ahead of the publication of the NHS Long Term Plan.
Visit the Bowel Cancer UK website if you'd like to find out more about the work we do.
PHE Screening blogs
PHE Screening blogs provide up to date news from all NHS screening programmes. You can register to receive updates direct to your inbox, so there's no need to keep checking for new blogs. If you have any questions about this blog article, or about population screening in England, please contact the PHE screening helpdesk.