We are pleased to announce that an updated version of the Newborn and Infant Physical Examination (NIPE) Screening Management and Reporting Tool (SMART) IT system is available to users of the system from tomorrow (2 August 2016).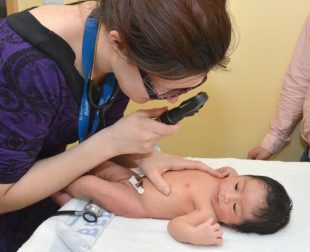 We had to carry out rigorous user testing and address any 'bugs and fixes' before releasing version 5.6 of the system. We know trusts have been eagerly awaiting this release and apologise for the delay.
Version 5.6 of NIPE SMART incorporates a number of change requests. These are requests from multiple users of the system that have been agreed and funded by the NIPE programme as part of the regular programme review process.
These include:
improved processes for managing babies who are transferred between hospitals
enhanced consent functionality
improved navigation direct access from the system to national KPI reports (superusers only)
a new read only access that may benefit other approved organisations/professionals such as child health information systems, trust IT staff and GPs  
A summary of the changes is listed in the table below. NIPE SMART designated leads have received detailed release notes with screen shots to help users understand the changes.
In addition, we will be holding WebEx (virtual online) demonstrations for users, starting with:
5 August 2016, 13:30-14:30
9 August 2016, 13:30-14:30
To access these WebEx demonstrations, or for more information, please email PHE.ANNB-Admin@nhs.net.
Summary of NIPE SMART version 5.6 changes:
US01 – Bulk User Create function enhanced to create users for more than one facility
US02 – Screening Tab updates:
enhance button sizing and alignment
update 'Abnormality Detected' to 'Abnormality Suspected'
add 'Community' to Location drop-down list
disable Practitioner drop-down list (except for admin users)
saving partially completed examinations
US04 – provide read only access option
US06:
reduced validation of GMC/NMC registration number
confirming user details at first login
US09 – correct date formats in export file
US10 – remove ability to click Save twice (as that incorrectly resulted in the record being created without a care path status)
US11 – provide access to KPI reports from within SMART
US13 – enhancements to consent model
US15 – remove the default age to value for KPI1 pre-defined search
US16 – allow patients to be linked to the NHS postcode directory
US17 – allow more local risk factors to be created, but limit that such that only 10 can be current and allow them to be sorted
US19 – correct date formats in merges
US20 – include practitioner in merge and export
US22 – update expiry date for users
US23 – changes to patient share function
Established users will know how NIPE SMART has evolved over time in response to feedback and change requests from our users.
We hope this latest release  will enhance the effectiveness  of the system.  Please continue to send change requests to the NIPE helpdesk.
Please send any other comments via the PHE Screening helpdesk.
PHE Screening blogs
PHE Screening BLOGs provide up to date news from all NHS screening programmes – replacing our previously published newsletters.
You can register to receive updates direct to your inbox, so there's no need to keep checking for new blogs.