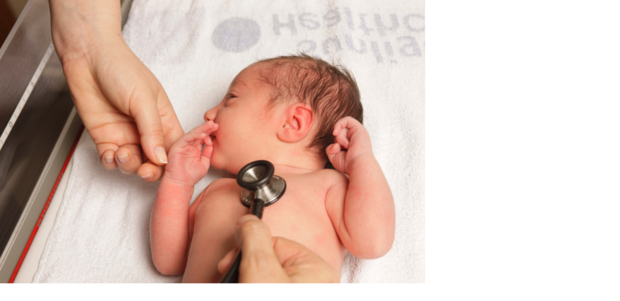 The NHS Newborn and Infant Physical Examination (NIPE) Programme is the newest antenatal and newborn screening programme to be implemented across England.
We're now over halfway through national rollout, so it seems like a good time to explain exactly what is involved and what we have learned so far.
What is NIPE implementation?
Each fully implemented and functioning local NIPE screening service works within nationally defined NIPE standards and follows screening and referral pathways.  This enables provider trusts to ensure that the newborn and infant examination is offered to every newborn baby within 72 hours of birth.
All trusts should have a NIPE clinical lead who oversees and assures the programme.  And parents should have appropriate and timely information that supports them in making an informed choice about screening. Staff who do the NIPE examination should  have completed a recommended level of NIPE training suitable for their professional role in accordance with national guidance. They should also have access to ongoing training and development, including annual completion of the NIPE e-learning module.
Trusts can track, manage and report on programme activity, clinical referrals and outcomes, and data to inform and improve clinical practice . The national IT system provides a robust failsafe system to support NIPE screening and referral pathways.
NIPE rollout includes the implementation of the national IT system, the Screening Management and Reporting Tool (NIPE SMART). The national programme supports trusts to achieve implementation deadlines  and 'go live'  with NIPE SMART. The use of NIPE SMART is in line with the national NIPE service specification and failsafe and cohort management are integral components.
To date, 79 out of 140 trusts in England are now live with NIPE SMART (see table below).
Progress in the past 18 months
| | | | |
| --- | --- | --- | --- |
|   | Expressions of Interest (EOI) | Actively Implementing | Live with NIPE SMART |
| April 2014 | 45 | 9 | 17 |
| January 2015 | 35 | 48 | 25 |
| June 2015 | 29 | 27 | 62 |
| September 2015 | 18 | 20 | 79 |
Feedback from stakeholders
A survey was carried out in  trusts that had gone live to evaluate the implementation process.
The 51 responses results included the following feedback:
the NIPE implementation information provided was clear and concise
97% said the NIPE SMART implementation guide was useful
86%  agreed that the webex online demonstration of NIPE SMART was useful
information governance documents did not evaluate well and the national team will be working with stakeholders to review this content
We are now focused on the final push to complete implementation of consistent national standards supported by this bespoke IT system with the aim of ensuring improved outcomes for hundreds of babies born with life-threatening heart disease, sight problems and other abnormalities, reducing the risk of lengthy treatment or long-term disability.