https://phescreening.blog.gov.uk/shortcuts/
Save screening leaflet shortcuts to your phone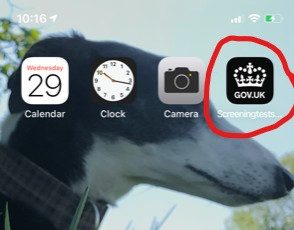 You can save a shortcut to any of the online screening information leaflets to your phone.
This enables you to click on the icon to go straight to the screening information, just like an app. It does not download anything to your phone, though. It's like bookmarking a webpage in your web browser.
It works for both iPhones and Android phones.
Open the web browser on your phone.
Go to the online version of the screening information leaflet, for instance Screening tests for you and your baby.
Then find the Add to home screen or Save to home screen option. Where this is depends on what phone you have and how old it is. If you need help, search online for what to do for your specific phone.
The next steps will depend on whether you have an iPhone or an Android phone.
iPhones
Click on the share icon at the bottom of the screen.
Scroll up to see the options and click on Add to home screen. Note that on slightly older iPhones, you find the Add the home screen option by scrolling left on the lower row of icons.
Click Add.
Android phones
Click on the menu icon (3 dots or lines ) on the top right-hand side of the screen. Note that on some phones the menu icon might be in a different position on the screen.
Select Add to home screen from menu.
Click Add.