https://phescreening.blog.gov.uk/screening-masterclasses/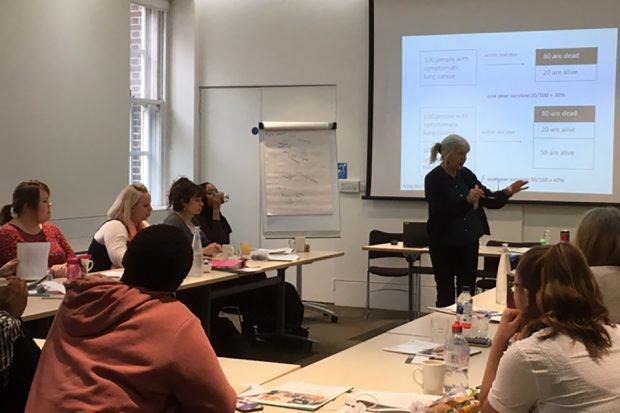 The popular screening masterclasses have been running for over 10 years now. They are for staff working in healthcare who are involved in commissioning, managing or delivering national screening programmes for their local populations.
They offer a one-day interactive, fun learning experience, which is suitable for all staff groups working in screening.
Angela Raffle, Joanne Harcombe and Nadia Permalloo will lead the masterclass, which will include:
1. The fundamentals
what screening is and is not
how to teach screening
the consequences of screening
2. Developing and delivering high quality screening programmes
3. Overview of the NHS screening programmes
4. Group practical exercises
The day is delivered interactively, and many of the classes will have an open Q&A session with Professor Anne Mackie, the Director of Screening.
Lunch and regular refreshment breaks are provided, and time will be allocated for support, questions and answers throughout the day.
Prior to the day, it is helpful if participants complete chapter one of the interactive learning module at Health Knowledge. It takes around 45 minutes and will enable the group to hit the ground running on the day.
The masterclasses always receive excellent feedback. Past participants state they really value the interactive nature of the day, the friendliness of the presenters and the ability to learn from one another and network.
Presentations gave an extremely good overview and helped to set a good learning pace.
Group exercises were very useful — to be in the shoes of others.
Angela says to anyone joining the day:
Please arrive in time, full of enthusiasm and ready to enjoy this interactive learning experience. I really look forward to welcoming you and working with you on the day.
Masterclass dates
Please note, the 2021 sessions are now fully booked and we are not holding an additional waiting list or mailing list.
We will be arranging dates for 2022 later this year, and booking links will be added here in due course. If you have any queries please get in touch.