I'm sure you're all very aware of the big changes we've made recently to the NHS Fetal Anomaly Screening Programme (FASP).
From April 2015, eligible pregnant women in England started to be offered first trimester combined screening for Trisomy 18 (Edwards' syndrome) and Trisomy 13 (Patau's syndrome), in addition to the existing Trisomy 21 (Down's screening) programme. Sadly most affected babies affected by Edwards' and Patau's syndromes will die before they're born or shortly after birth. Earlier screening supports women to make better informed choices about their pregnancy.
Laboratories and Trusts will be implementing these changes over the course of this financial year with all services offering earlier T18 / T13 screening by the end of March 2016.
Earlier screening for T18 and T13
The policy as recommended by the UK National Screening Committee is to offer first trimester screening to assess the risk of the baby being born with Down's or Edwards'/ Patau's syndromes. The test of choice for both singleton and twin pregnancies is combined screening. This means that women can choose:
not to have screening
to have screening for T21 and T18 / T13
to have screening for T21 only
to have screening for T18 / T13 only
They will receive 2 separate risks: one for T21 and the other for T18 / T13.
A risk cut-off determines those women who are in the 'higher risk' group and considered 'screen positive' – this is currently set at 1 in 150 at term. A woman with a risk of 1 in 150 or greater (1 in 2 to 1 in 150) of having a pregnancy affected by Down's or Edwards'/ Patau's in the first trimester is considered to be in the 'higher risk' group. Women in this group are offered a diagnostic test such as chorionic villus sampling or amniocentesis to directly investigate the fetal chromosomes.
Maternity services should inform women of the result within three working days of the receipt of result from the laboratory and offer a face to face discussion with a health professional who has the experience and knowledge to clearly explain the results and discuss further options.  They could then choose to have diagnostic testing if they wanted to.
Importantly, women must be informed that diagnostic testing will give a result for Down's, Edwards' and Patau's syndromes irrespective of the initial screening choices.
Supporting screening services
We've recently published a range of new guidance to support the new screening policy. These include: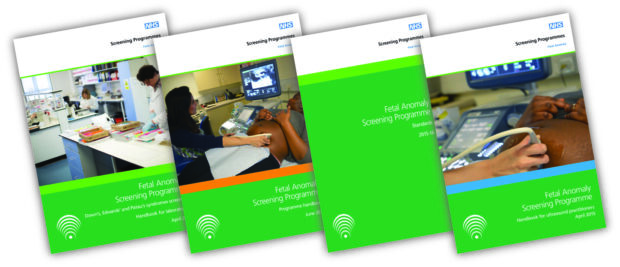 Hopefully you're all starting to get used to our new websites now but here's a reminder of where to find information:
Information for professionals is on GOV.UK. Information for the public on T21/T18/T13 and the fetal anomaly scan is on NHS Choices. Education and training resources, including the CEMT21 and NT e-learning modules, are on the screening CPD site.